Pastor Emeritus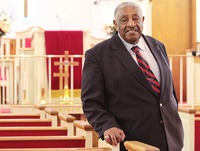 Click Here To Read More About His Retirement


                       Our Welcome Message


Second Baptist Church of Pedricktown, NJ extends to you and your family a cordial and heartfelt welcome to our services. Here you will find love, fellowship and a Christian attitude to satisfy your spiritual needs. We are a bible-based, Christ-centered church, where the joy of the Lord is our strength. Our preaching and teaching the whole counsel of God. Our mission is under the mandate of Matthew 28: 19-20: 
"Go ye therefore and teach all nations, baptizing them in the name of the Father, and the Son, and the Holy Ghost."
Our ministries are to edify the body of Christ in caring, sharing and bearing the needs of his flock.
On behalf of my wife, Charlotte, and I, we invite you to worship with us here and enjoy the presence of the Lord.

God bless you in all your endeavors. 
Rev. Dr. Edward W. Dorn, Th.D, Pastor Emeritus




Our Motto: 
"The Church where everybody is somebody"