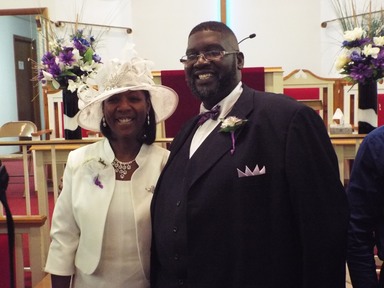 Congratulations to Rev. Kevin M. Peterson, Pastor of Second Baptist Church, Pedricktown, NJ & First Lady Stephanie Peterson            

                       Our Welcome Message
Greetings,
As the New Pastor and First Lady of The Second Baptist Church of Pedricktown, we would like to invite you and your family to come out and worship with us and experience the Power and Presence of God moving and changing lives.  Come and feel the Love of Christ and the fellowship of the saints as we endeavor to walk closer with the Lord Day by day.  You and your family will be greeted with open arms by a loving and caring congregation and spiritually strengthened by the uncompromised preached Word of God.
Please feel free to attend Sunday school, every Sunday morning beginning at 9:30am for all ages and Morning Worship service at 11:00am.  Wednesday night Bible Study begins at 6:00pm followed by Prayer at 7:00pm.  My wife Stephanie and I look forward to meeting you and your family as we come together to lift up the Name of Jesus.  For Jesus said in John 12:32, "And I, if I be lifted up from the earth, will draw all men unto me."

In His Service,
Rev. Kevin M. Peterson
Pastor


Our Motto: 
"The Church where everybody is somebody"