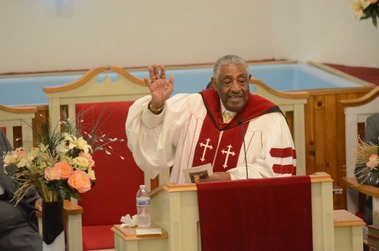 OLDMANS TWP. — When the Rev. Edward W. Dorn walks into a room, everyone is aware of his presence. 
They are drawn to him. His strong character is tempered by his wise and compassionate eyes and the deep melodic timber of his voice. His laugh is quick and infectious.
Dorn, pastor of the Second Baptist Church of Pedricktown, is well known in Salem County — and throughout the region — for his steadfast convictions that have driven his need to affect change whenever needed. He has inspired his parishioners to lifelong bonds with faith. He has inspired his fellow man to be spiritually and civically better.
As a longtime friend says, he is "a true man of God." 
Now he is ready for a change. Dorn is set to deliver his final sermon to his congregation on Sunday, retiring after 35 years as pastor of the church on Pennsville-Pedricktown Road which has grown and taken a wider role in the community under his leadership.
"It is time," said Dorn, who will be 79 in October. 
He said though his health is generally good, there are a few conditions that have limited his ability to pastor as he believes he should. He said part of a pastor's job is to get out into the community and visit, something he just can't do as much anymore.
So Dorn will be given the title emeritus pastor, remaining in honorary status at the Second Baptist Church. 
While he is stepping down from the pulpit, he has no plans, however, to retire from working to make his town, county and state a better place to live.
Dorn is a true Salem County native, born in the Brotmanville section of Pittsgrove. Much of his youth was spent in Philadelphia where he worked in his family's printing business. He is well traveled having seen most of Europe through his time in the U.S. Army. 
His career in faith technically began after graduating with a bachelor's and doctorate degree at Covington Theological Seminary in Georgia. But it wasn't until he retired from a career as a district manager for the transit agency SEPTA that it truly took root.
His return to Salem County seems to have been divine intervention. Dorn was considering several churches, but in the end, it was his mother's hunch that brought him to Second Baptist.
"When my mother saw this church, she said, 'that is where God wants you to be,'" Dorn recalled. "And sure enough, God has blessed my ministry here in this church."
He began his tenure at Second Baptist Church in 1978 with a congregation of about 100 worshippers. That number has grown over the years with its highest membership hitting 300.
As pastor of Second Baptist Church of Pedricktown, Dorn, along with a committed group of board members, has had many accomplishments, including growing the congregation, building a new church and community center and instituting many programs to benefit the youth and the elderly. 
The Edward W. Dorn Community Center, named for the pastor, is adjacent to the church, hosts of many outreach programs through the Calvary Community Development Corporation.
Dorn, who is founder and board chairman of Calvary, had the vision to start the organization.
Calvary offers many programs including the R.O.P.E (Reaching Out in Plain English) program, the TNG (The Next Generation), EMMY (Empowering and Mentoring Minority Youth program), WATCH (We Aspire to Capture Hope, a group that provides inspiration to local young girls) and TLSJ (Touching Lives in South Jersey.) 
Dorn said these programs, some of which have won state and national awards, are powered by a dedicated and tireless group of people that make up the CCDC's board.
"There's so much talent here, all these people contribute to our successes," Dorn said. "All I do is quarterback."
Dorn also brings his inspirational spirit to the community, volunteering in many organizations. He has received many honors, including a Lifetime Achievement Award for Salem County, Salem Community College Lifetime Achievement Award and Minister of the Year of Gloucester and Salem Counties Award. He has also served on several boards, including being in his third term as a commissioner on the Delaware River and Bay Authority. 
Harvey Saunders, president of CCDC and friend of Dorn, has known the pastor for all his years at Second Baptist. He calls him a "true man of God."
"It is easy to see that Rev. Dorn loves the ministry and loves the people," he said. "His is an inspirational person and that rubs off on all who come in contact with him."
Saunders said that not only did Dorn spiritually uplift the church congregation, he helped it realize its dream of a new church and community center. He said Dorn has a way of encouraging the best in people, inspiring them to rise to their greatest potential.
"Rev. Dorn's biggest quality is his extreme love for his fellow man," Saunders said. "He has it because he is just that type of man. The fact that he's a pastor makes it even better."
Dorn's positive influence and passion for his community has broken the borders of Oldmans Township and Salem County to flow throughout the State of New Jersey.
One such organization on which he has served is the Black Ministers Council of New Jersey. 
According to Rev. Reginald T. Jackson, head of the council and pastor at St. Matthew A.M.E. Church in Orange, Dorn has been a leader in shedding light on the various civil rights issues facing African Americans in New Jersey.
"Rev. Dorn is one of the most committed and faithful ministers and people I have known," Jackson said. "He was one of the leaders in the fight against racial profiling, demonstrating great courage. He was also instrumental in the effort against predatory lending, increasing funding for charity care and needle exchange to fight the spread of HIV/AIDS."
Through his state activities, Dorn has met many high profile leaders, establishing strong relationships. He has worked with many politicians, including Sen. Stephen Sweeney, Assemblyman John Burzichelli, former U.S. Sen. Robert Torricelli, the late U.S. Sen. Frank Lautenberg and former state Assembly Speaker Jack Collins. He has met civil rights leader Jesse Jackson, along with President Barack Obama, President Bill Clinton and former Vice President Al Gore.
But to Dorn, meeting these people was more than just a photo op for him. He said the lessons learned and camaraderies formed with these leaders were messages he brought back to his congregation that helped him become the minister he is today. 
Dorn said that he will miss the challenge of pastoring on a regular basis. However, since he plans to continue his "ministry" in the community, it will just be a change of the delivery.
"I intend to continue to address many issues, only not from the church pulpit," he said. "I expect to be going to other pulpits, on the local and state levels."
Upon retiring, Dorn said the first item on his agenda is to travel and spend time with his family. He said for the last 53 years, his wife, Charlotte, has had to share him. Now, she will have him more to herself.
Dorn will also be part of the search committee for a new pastor for Second Baptist Church. He said the committee has received many exciting prospects for the pastor position, with interest coming from all over the country.
"We have quite a list," Dorn said. "We've gotten calls as far away as California and Texas."
Whoever is chosen to take the helm at the church, there will be big shoes to fill.
"Rev. Dorn has been a wonderful pastor who inspires people by his work ethic, strong, and his ability to get along and interact with people," Jackson said. "He is a people person. I wish him all the best and pray that he will enjoy his retirement. He has earned it."